This was written by Linda Looney Please, do not take without permission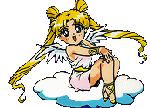 Esther Elizabeth Bullard
My Youngest Child

You are my last child; small and petite
Oh, how you hate your size
You have so many issues within
Wish you could realize.

You've so many talents
You're pretty and you're small
Good things do come in small packages
Everyone cannot be tall.

You've written wonderful stories
Your poems are moving when read
You're a very gifted person
There's imagination in your head.

You were always feminine
Pants you hated to wear
You loved to dance and sing
Anytime, anyplace, anywhere.

You were always making believe
Putting on shows outside

Oh, my younget daughter

In you I have much pride.




May every dream you dream
Come true for you
May you use your talents
To bring other's pleasure too.